Salted Caramel Flavored Whiskey Barrel Aged Coffee (Bag)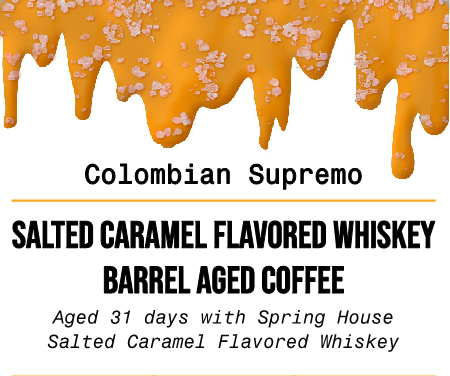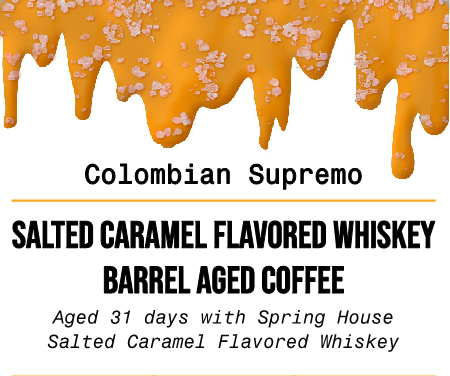 sold out
Salted Caramel Flavored Whiskey Barrel Aged Coffee (Bag)
Colombian Supremo green coffee beans aged for 31 days in a used Spring House Salted Caramel Flavored Whiskey barrel, then roasted to perfection. Sold in 1 lb. increments.
Crisp cool days herald warm fires, cozy sweaters, bright red and orange leaves, and rich fall flavors. Our barrel aged coffee pairs deliciously with the Spring House Salted Caramel Flavored Whiskey. Enjoy the flavors of the season in your morning cup of coffee.
Origin: Colombia
Region: Huila
Altitude: about 5000 feet
Cupping Notes: Hints of cocoa, with soft cranberry – like acidity. Balanced, medium body. Refreshing finish reminiscent of cherries.
About this Coffee: The temperature variations during the day and night are essential to the quality of this Colombian. The low nighttime temperatures, associated with relatively high altitudes, reduce the coffee bean ripening rhythm and give it higher levels of acidity and very particular sweet notes. Colombian Supremo is the largest screen size Colombian available.